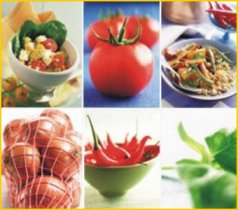 Recipe & Nutritional profile section:
Summer Recipes
Click on the links below for:
Quick Meals ¦ Low Glycaemic Index Dining ¦Summer Recipes¦ Puddings + Cakes
Red Berries
Strawberries
Nutrition
Vitamin A, Iron, 100g contain more Vitamin C than one orange, High fibre, Magnesium, Phosphorus

Good For
Great for skin health
Helpful in combating stress

How Much To Eat
8 strawberries weigh approx. 100g
20 strawberries (240g) have proven effects on antioxidant levels in blood (eat as part of five to nine portions a day when in season)

Phytonutrients
Salicylic acid
Ellagic acid

Did You Know?
Strawberries: A native fruit of America wild strawberries are smaller than cultivated ones. They are an excellent source of Vitamin C, niacin and folate. Strawberries are also good for healthy skin and mucous membranes (the lining of the nose and respiratory tract). They can help the body to deal with stress as the powerful anti-oxidants will help eliminate damaging toxins from the body so that body functions can run effectively. This is especially beneficial in times of stress. In some cases strawberries can cause allergies, particularly skin rashes.

Strawberry and White Chocolate Mousse
Serves 4

150g (5½ oz) white chocolate
150 ml (4 fl oz) cream
4 eggs
250g (9 oz) strawberries
Mint from your herb garden
Melt chocolate in microwave or heatproof bowl over a pan of simmering water. Cool and stir in cream.
Separate 4 eggs. Stir yolks into chocolate. Whisk whites until light and fluffy. Fold into mixture.
Mash strawberries and stir in.
Divide into 4 serving glasses. Chill for at least 4 hours. Serve with a mint leaf from your herb garden.

---
Blueberries
Nutrition
Rich in Vitamin C, Small amount Vitamin B1, Potassium

Good For
Great for anti-ageing
Tummy upset-diarrhoea
Treating cystitis & other urinary infections
Kidneys

How Much To Eat
30 berries (as part of five to nine portions of fruit and vegetables a day)

Phytonutrients
Flavonoids and tannins

Did You Know?
Blueberries are not blue inside but white or pale green and have really small seeds that are hardly noticeable. Blueberries have grown wild in Asia and North America for thousands of years. Nutritionally, they are not very exciting. It is their natural chemicals that are antibacterial and have a tonic effect on blood vessels that make them very beneficial in helping to treat cystitis and other urinary infections. They are related to cranberries and they too play an important role in helping with urinary care. The deep blue colour of fresh blueberries is due to anthocyanin pigment. This is a powerful antioxidant that fights free radicals. Choose firm, plump berries without any squashed or leaking fruit. Blueberries react with metal so line tins with paper or cling film. They freeze well so you can have them all year round. A half cup of blueberries will give the same amount of antioxidants as five servings of: peas or broccolis, carrots or apples. Blueberries are a great anti-ageing food as they have the highest anti-oxidant levels of any fruit. The polyphenols in blueberries have become important in recent research on ageing.

Blueberry and Spinach Salad
Serves 2

450g (1lb) fresh spinach leaves
3 tbsp hazelnuts - chopped
350g (12½ oz) fresh or frozen blueberries
½ medium red onion, thinly sliced
200g (7 oz) canned mandarin oranges - (in natural juice) drained

Honey-Sesame Dressing
1 tbsp sesame seeds
60 ml (2 fl oz) cider vinegar
2 tbsp olive oil
3 tbsp liquid from mandarin oranges
1 tbsp honey
¼ tsp paprika
Trim, wash and dry spinach. Tear spinach into bite sized pieces. Place in salad bowl and set aside. Dressing: Toast sesame seeds in un-greased skillet; stirring over medium heat until browned. Combine toasted sesame seeds, cider vinegar, olive oil, water, sugar, paprika. Mix well. At serving time, pour dressing over spinach and mix well to coat leaves. Add blueberries, red onion slices, mandarin orange segments and hazelnuts and toss just enough to mix.


---
Courgettes

Nutrition
Folic acid - 100g portion will supply more than ¼ daily need of folic acid Rich source of potassium

Good For
Skin health
Low in calories

How Much To Eat
100g serving contains only 18 kcal

Phytonutrients
Beta-carotene
Did You Know?
Courgettes are baby marrows. They are usually green in colour but there are light green and yellow varieties as well. They belong to the same family as melons, pumpkins and cucumbers. Buy and eat them quickly as storing in the fridge makes the texture deteriorate. For a quick Vitamin A fix - lightly cook some buckwheat pasta, add two grated courgettes, drizzle a tbsp olive oil and some cheese shavings.

Courgette Tea Buns
Makes 12 buns

50g (2 oz) butter
3 eggs
250 ml (8 fl oz) vegetable oil
300g (10½ oz) sugar
2 courgettes - grated
280g (10 oz) plain flour
2 tsp bicarbonate soda
1 tsp baking powder
1 tsp salt
1 tsp mixed spice
1 tsp cinnamon
100g (3½ oz) almonds - chopped

Pre-heat oven to 180ºC (350ºF) or gas mark 4. Grease the bun tin. Melt the butter over a low heat. Set aside. Using an electric mixer beat the eggs and oil together until thick. Beat in the sugar. Add the melted butter and grated courgettes. Set aside. In another bowl sift the flour, bicarbonate of soda and baking powder together. Then add the courgette ingredients and stir in the chopped almond. Spoon the mixture into the bun tins and bake for 1 hour. Let to set in the tin for about 10 minutes before turning out. Delicious with soup.