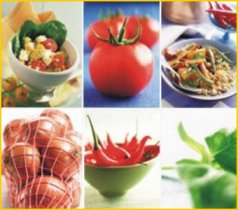 Recipe & Nutritional profile section:
Quick Meals
Click on the links below for:
Quick Meals ¦ Low Glycaemic Index Dining ¦ Summer Recipes ¦ Puddings + Cakes
Here is a selection of healthy quick meals for you to enjoy when you need good food fast.
Over 200 recipes are available in my book - Colour for living - How to change your life with colour.
Bruschetta with crispy bacon and cheese
Serves 4

1 French roll
Olive oil
8 rashers, grilled crisp
Fresh herbs - sprig of thyme
100 g cheese slice

Divide the French stick in four. Cut each quarter in half lengthways. Drizzle a little olive oil over the cut sides and place under a hot grill for 2-3 minutes. Remove. Top each slice with rashers, herbs and finally cheese. Place them back under the hot grill and continue to cook for another 2-3 minutes or until the cheese is melted -perfect!


Open topped BLT's with spicy sweet corn salsa

2 slices bread from a large seeded loaf, toasted
1 tbsp reduced-calorie mayonnaise
50 g iceberg lettuce, roughly torn
4 rashers very lean dry-cured back bacon, grilled
4 tbsp spicy sweetcorn salsa
freshly ground back pepper

Spread the toasted bread with the mayonnaise and divide the lettuce and bacon between the slices. Top with the salsa and finish off with a sprinkling of pepper.


Spicy Sweetcorn Salsa

250g frozen sweetcorn kernels
1 tbsp raw cane brown sugar
1 tbsp sherry vinegar (or wine vinegar)
125g cherry tomatoes
2 large spring onions, finely chopped
1 red chilli, deseeded and finely chopped
1 tbsp freshly chopped parsley
1 tbsp freshly chopped coriander

Cook the sweetcorn according to the pack instructions, then drain thoroughly. While it is still warm add the sugar and vinegar and mix to dissolve the sugar. Leave to cool, then stir in the remaining ingredients. This will keep in the fridge for 2-3 days.This is delicious with grilled beef burgers.


Chimichurri Sauce

25 g Flat leaf parsley finely chopped
2 tbsp fresh oregano leave finely chopped
2 garlic cloves finely chopped
150ml extra virgin olive oil
1-2 tbsp red wine vinegar

Make the chimichurri sauce by combining all the ingredients in a bowl. Leave to stand for 30 minutes. Delicious with a piece of grilled chicken.


Pasta with Pesto

450 g chunky pasta shapes, such as penne
2-3 tbsp pesto
Black pepper

Add pasta to large saucepan of boiling water and simmer until just done, 7-8 minutes approximately. Drain. Add a little black pepper and enough pesto to flavour well.
This recipe is good because it is easy, takes 10 minutes and serves four. It is a good source of carbohydrate.
If you want you could sprinkle pine nuts on top, which are a great source of zinc.


Bacon Pasta with Pesto

450 g dried chunky pasta shapes - such as rigatoni or penne
1 tbsp oil
8 slices streaky bacon
1 chilli finely chopped
2-3 tbsp pesto there are lots of good brands available
Black pepper
Alternatives: Chicken

Add the pasta to a large saucepan of boiling water and simmer until just well done, 7-8 minutes approximately. Drain but keep a few tablespoons of the cooking water. This will help the sauce cling to the pasta and adds a certain creaminess. Meanwhile, cook the bacon in a hot oil in a large pan, until crisp. Stir in the chilli and 1-2 tablespoons of the cooking water. Stir in the pasta and heat through. Add a little black pepper and enough pesto to flavour well.


Bacon and Mushroom Risotto

2 tbsp sunflower oil
4 rashers, smoked streaky bacon, chopped
150g (5oz) risotto rice
415 g can mushroom soup
Freshly ground black pepper

Heat the oil in a pan, add the bacon and cook it over a medium heat until it just starts to crisp. Add the rice and cook, stirring continually, for 1-2 minutes then add the soup to the pan and bring it to a gentle simmer. Stir in 300ml boiling water. Simmer the risotto gently for about 15-20 minutes string occasionally until the rice is cooked and the mixture has thickened. Season with pepper before serving.


Bubble and Squeak Bean Cakes

250g large new potatoes, roughly chopped
250g Savoy cabbage or curly kale, shredded
1 small leek (about 100g) shredded
410g tinned kidney beans in water, drained and rinsed
2 tsp black onion seeds (kalonji)
Freshly ground black pepper
4 tsp olive oil

Steam or cook the potatoes in boiling water until tender - about 15 minutes. Drain thoroughly and transfer to a large bowl. Reserve the cooking water and use to cook the cabbage and leeks for 5 minutes. Drain thoroughly. Mach the potatoes and beans together, then add t cabbage and leeks, onion seeds and plenty of pepper. Mix together and form into 4 large cakes. Heat the oil in a large frying pan and fry the 'cakes' over a medium heat for about 5 minutes, turning once, until crisp and golden on both sides. Serve at once.


Spanish tortilla

2 tbsp olive oil
1 large onion, peel, halved and very thinly sliced
250g new potatoes in the skins, cooked, cooled and thickly sliced
75g frozen baby broad beans or peas
6 eggs
2 tbsp freshly chopped parsley
2 tbsp freshly chopped mint
Freshly ground black pepper

Heat the oil in a deep 20cm non-stick frying pan add the onion and cook over a medium heat until well softened - about 10 minutes. Add the potatoes and beans and cook, stirring, until warmed through. Beat the eggs with the herbs and pepper and add to the pan. Stir carefully until the egg is half set, then press the mixture lightly to flatten, cook for a further 2-3 minutes until fairly firm, then loosen around the edges and slide the tortilla onto a plate. Invert the pan over the top of the plate and return the tortilla to the pan. Cook the other side for 2-3 minutes until lightly golden. Serve warm or cold.


French Savoury Omelette

2 Large eggs
1 tbsp water
Pinch of mixed herbs
15g Butter
1 Tbsp oil to fry
Salt & pepper
Filling of your choice (see step 2)
Garnish: Parsley

Gather equipment, collect/weigh ingredients, set table.
Gently whisk all the ingredients except the oil.

Filling:
Prepare one filling from the following choices:
2 tbsp cheese grated
50g mushrooms, sautéed in a little butter
2 tbsp ham/cooked rashers chopped

Heat oil, pour in the egg mixture. When the eggs start to set, quickly tilt the pan and using a palette knife, push the cooked edges of the omelette towards the centre. Now run any remaining liquid egg onto the hot pan to cook. Continue cooking until the egg mixture is nearly set. The top will look glossy and creamy. Sprinkle on the filling.
Fold omelette across in three and slip onto warm plate. Garnish with parsley serve immediately with a fresh salad and brown bread.


Pork Stir-fry

450g lean pork
2 tbsp soy sauce
1 tbsp oil
2 cloves garlic
225 vegetables
50g cashew nuts/peanuts (optional)

Mix the pork with the soy sauce. Heat the wok or large pan. Add the oil. Then add the garlic and pork and stir-fry for 5-6 minutes. Add the vegetables and nuts and stir-fry for another 2-3 minutes.
Serve with noodles, rice or wrapped in a tortilla or pitta bread.


Potato & Bacon Salad with wholegrain mustard dressing

1 kg Potatoes, cooked and cut into cubes
200g green beans, blanched
1 red onion very finely chopped
150g streaky rashers, diced and cooked until crispy

Dressing:
2 tbsp olive oil
1 tbsp wine vinegar
1 tbsp wholegrain mustard
salt & black pepper

Place the potatoes, green beans, onion and bacon in a salad bowl. Mix together the dressing ingredients. Pour the dressing over the potatoes and serve.


Mexican tortillas
Serves 4

450g lean mince
1 onion finely chopped
2-3 cloves garlic, chopped
1 chilli chopped (plus seeds if you like it hot)
1 desert spoon fresh ginger, grated
1 red pepper, chopped
Salt & pepper
1 can of chopped tomatoes
1 pack of soft tortillas
Salsa of your choice, crème fraiche and mixed salad leaves

Heat non-stick pan, brown the mince well. Stir in the onion, garlic, chilli, ginger, red pepper, and season well. Add the chopped tomatoes and cook for 8-10 minutes. Heat the tortillas as instructed on the pack. Fill with the beef mixture. Serve with salsa and a bowl of low fat crème fraiche.

There are many varieties of salsa available in the shops. If you feel like making one, our favourite to serve with tortillas is celery and pepper, mix together 2 sticks of celery, finely chopped, 1 chopped red pepper, 2 tbsp oil, 1 clove garlic chopped,
juice of 1/2 lemon and season with a little salt & pepper.